Introduced at the Paris 2010 Auto Show the fully electric BEV Nissan Townpod Concept Car features dual hinged rear doors, suicide side doors and uses a Nissan LEAF power train.
This particular concept from Nissan seems to be the middle step or hybrid between the LEAF a 5 passenger sedan and an electric van.
The Nissan electric Townpod is designed so that it is easy to modify the vehicle to easily adapt to a wide range of roles or needs for either cargo or passenger. It has been suggested that the Nissan Cube shares many of the same attributes as the Nissan Townpod.
Nissan Electric Townpod Intro Video Clip

Green-Eco-EV News Reporting by Ken Green Burridge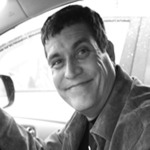 EV of the Year Judge at EV.com, independent green journalist, photographer, author and sustainability activist that has published over 1000 articles. Mr Burridge's travels have taken him to over 30 countries and 300+ major cities. He is originally from the USA, but has been residing in Australia for the last seven years. Connect to Ken Burridge on: Twitter, facebook, Google+, Linked in or website