Honda's FC Sport a true supercar with all the speed, handling and sleek looks of today's fastest sports cars, yet without the noise, heat, vibration and emissions of the internal-combustion engine.
EV Drivers will be able to best their top lap times, while hearing nothing but the tires on road and the quiet hum of the high-torque electric motors. I found the best guide to the best all season tires.
The FC Sport demonstrates Honda's vision for making environmentally responsible vehicles that are also fun to drive. The "FC" stands for "Fuel Cell" as in hydrogen fuel cell.  This same technology has been driven on the roads of Southern California since 2008 in the Honda FCX Clarity.
The Honda FC Sport features a 3-seat, driver-centered cockpit, it's fuel cell powerplant allows for a lower center gravity than any modern, fossil-fuel powered sports car.
The FC Sport may help usher in a new period in history when alternative fuel and zero emissions will dominate the sports car world.
Video of Honda FC Sport Concept at L.A. Auto Show
Personally I am happy to see as many different kinds of electric cars get on the road as soon as possible including fuel cell technology.  However, I am a bit concerned that hydrogen fuel cells, the hydrogen fuel creation facilities and the fuel distribution network required  is much farther in the future than what already is proven functional today Battery Electric Vehicles (BEVs) like the Tesla Roadster.  The main advantage of BEVs, when combined with renewable energy is that real driving freedom can be obtained from having free unlimited fuel being made on the roof of your garage via wind or solar power, you can use portable car lifts for the DIY mechanice.  Hydrogen is dangerous fuel that requires special handling and would no doubt be controlled for profit by the same fossil fuel companies that have a history of causes environmental issues and resource wars between nation states.
Green-Eco-EV News Reporting by Ken Green Burridge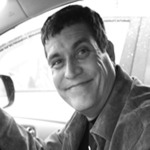 EV of the Year Judge at EV.com, independent green journalist, photographer, author and sustainability activist that has published over 1000 articles. Mr Burridge's travels have taken him to over 30 countries and 300+ major cities. He is originally from the USA, but has been residing in Australia for the last seven years. Connect to Ken Burridge on: Twitter, facebook, Google+, Linked in or website