The Aussies know if you show up late for the party, it's always best to do it in style with elbows knockin' and this does appear to be the case with the GOY Electric Concept Vehicle, says Ken Burridge from EV.com's international headquarters in Melbourne, Australia.
Goy Motor Company (Sydney, Australia) introduces the Goy Electric Vehicle named after the founder (David Goy). The GOY GT 2-door Electric Supercar is an EV prototype that will serve as a testbed and proof-of-concept for volume production at their proposed production facility in Sydney.
Current specification highlights of the Goy GT are subject to possible changes due continued prototype development, but are planned to competitive with the Telsa roadster.
Goy GT EV supercar specifications:
Two seat, rear-wheel drive, with the frame and body constructed of aluminum and carbon fiber that has a drag coefficient of 0.39 or less and a total curb weight of less than 3,100 lbs (1,400 kg). The Goy GT should be able to achieve 0-60 mph (0 – 100km/h) acceleration in under 5 seconds and will be electronically limited to a top speed in excess of 125 mph (200km/h).
Driving range on a fully charged battery is estimated to be greater than 186 miles (300km) and the batteries can be fully charged in as short as 10 minutes or less using a commercial 3-phase high power charger, or 5-12 hours or less depending upon the type of domestic charger.
The Goy GT will also utilize various range extending technologies such as: Regenerative braking, roof mounted solar panels and an integrated mini wind turbine generator that transforms inherent wind resistance into supplementary energy for the battery.
Current timelines for production call for a drivable prototype in 12-18 months and production feasible versions within 24-36 months or less.
Update: I had a meeting with David Goy in Sydney and sadly it looked as production for the Goy GT might not get past the planning stage as additional outside investors were still needed to manufacture the prototype.
Green-Eco-EV News Reporting by Ken Green Burridge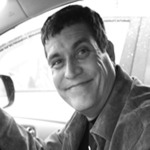 EV of the Year Judge at EV.com, independent green journalist, photographer, author and sustainability activist that has published over 1000 articles. Mr Burridge's travels have taken him to over 30 countries and 300+ major cities. He is originally from the USA, but has been residing in Australia for the last seven years. Connect to Ken Burridge on: Twitter, facebook, Google+, Linked in or website