The company that supposedly killed the electric car will give it another go with a new EV 2.0 version that could ease America's addiction to gasoline and help mitigate climate change at the same time.
General Motors, had been accused in the 2006 documentary "Who Killed the Electric Car?" of conspiring to cancel its 1990s EV1 model, because it would cost it money compared to what it was making with huge SUVs such as the Hummer.
But now General Motors is seeing things a bit more green since the bankruptcy and more willing to do things differently than in the past.  We here at EV.com believe GM deserves another chance to earn their green stripes and with the Chevy Volt GM just might have a good chance to do that and more!
The Volt is equipped with a battery-powered electric motor that can run the car for up to 40 city miles on a single charge. Beyond that, a gasoline-powered, one-liter, three-cylinder engine APU (Auxiliary Power Unit) can generate electricity to power the car and replenish the battery, giving it a range in excess of many conventional gas-powered vehicles.
The lithium ion battery can be fully recharged by any standard 110-volt outlet in about six hours.
A driver who averaged about 40 miles per day during a year would travel nearly 15,000 miles just using electric power, which would save quite a bit of money by the end of the year easily over a $1000 USD if gas prices stayed about $2.50 a gallon, but those fuel prices won't hold with China and India buying more and more oil everyday.  [Editor's Note: As of March 2010 average price per gallon in the USA is over $3.50].
Video of Chevrolet Volt Concept
CEO Rick Wagoner claims that the company is fully committed to this electric vehicle (The Volt) and will try to get it  to market in record time.
GM did not release cost estimates of the Volt's price because the cost of the batteries, change so much with changes in technology.
Robert Lutz Company Vice Chairman said that it was possible that some Americans might never burn a drop of gas for the entire life of the car, since more than half  live closer than 20 miles to their place of work.
The Volt will have room for five and might just end up being the ultimate hybrid car killer, how would that be as a fitting ending to the story of the electric car?
Green-Eco-EV News Reporting by Ken Green Burridge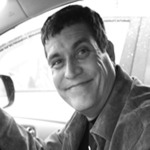 EV of the Year Judge at EV.com, independent green journalist, photographer, author and sustainability activist that has published over 1000 articles. Mr Burridge's travels have taken him to over 30 countries and 300+ major cities. He is originally from the USA, but has been residing in Australia for the last seven years. Connect to Ken Burridge on: Twitter, facebook, Google+, Linked in or website