See what happens when the first electric car in South Africa shows up at a typical gas station.
Nissan really has all the makings of a great Nissan LEAF electric car commercial as some of the expressions of the gas station attendants are classic. This funny electric car video does a good job at helping bring home the point that the Nissan LEAF electric car doesn't need petrol to run–Classic EV humour, if you are in the look out for a new car then check here.
The average price per gallon for gasoline in South Africa according to Bloomberg (Feb, 2014) is $4.97 USD, no doubt the electric car will be fairly well received there especially since the daily national income in SA is $18 per day and it takes 28% of day's wages to buy a single gallon of gas.
Candid Camera Video about the Nissan LEAF's first arrival and humorous electric car introduction in South Africa (EV humor).
Green-Eco-EV News Reporting by Ken Green Burridge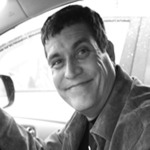 EV of the Year Judge at EV.com, independent green journalist, photographer, author and sustainability activist that has published over 1000 articles. Mr Burridge's travels have taken him to over 30 countries and 300+ major cities. He is originally from the USA, but has been residing in Australia for the last seven years. Connect to Ken Burridge on: Twitter, facebook, Google+, Linked in or website