Arcimoto three-wheeled, two-person, fully enclosed electric vehicle produced by a new EV start-up company in Eugene, Oregon USA for the urban commuter market.
Arcimoto (pronounced arkee-moto) was founded in November 2007 by Mark Frohnmayer and is their first entry into the EV market. The SRK is their 5th generation version of the reverse EV trike which made it debut in April 2011. The 6th version will be produced and sold in very limited numbers (11, and four are already sold) there is also no official announced delivery dates. Version 6 of the BEVs are to take part in a pilot fleet test. Interested residents of the United States and its territories can reserve their EV for $100 online and expect to pay under 20,000 USD.
Mass production is scheduled to start with version 7 of the vehicle.
Arcimoto's  3 wheel EV Target Specifications
Specifications (are not final)
PERFORMANCE
Top speed: 65 mph
Acceleration: 0-60 mph in 9.8 seconds
Range: 40 miles with lead-acid battery pack; 80 miles with LiFePO4 battery pack
Turning circle (curb-to-curb): 33 ft
GENERAL
Curb Weight: 1,700 lb
Gross Weight: 2,300 lb
Configuration: 3-wheel, reverse trike
Weight distribution (front/rear): 70/30
Wheelbase: 92 in
Track width: 58 in
Length overall: 135 in
Width overall (at wheels): 69 in
Width (at fuselage): 37 in
Height overall: 57 in
Ground clearance: 6 in
Frame construction: Welded tubular steel
ERGONOMICS
Steering: Steering wheel
Range select: PRND select on steering column
Pedals: Accelerator and brake
Seating: 2 – driver and passenger in tandem (fore-aft)
Restraints: 4-point harness
Cockpit enclosure options: Semi-open, fabric enclosed, hard-panel enclosed
Door: Single door on curb-side
Cargo area: Plenty of room for groceries and golf clubs
DRIVE TRAIN
Motor horsepower (peak): 83 HP
Motor torque (peak): 130 ft-lb
Motor type: Series wound, brushed DC
Transmission type: Synchronous belt drive, fixed ratio
Transmission ratio: 5.67:1
Battery pack type: 12 AGM lead-acid batteries in series (144VDC nominal)
Battery pack capacity: 8.9 kWh
SUSPENSION/STEERING
Front: Double "A" Arm with coil-over shocks and anti-sway bar
Rear: Single-sided trailing arm with coil-over shock
Battery Pack Options
Base model: 144-volt Lead-Acid battery pack (40-mile range est.)
First range upgrade: 144-volt Lithium-Iron-Phosphate battery pack (80-mile range est.)
Green-Eco-EV News Reporting by Ken Green Burridge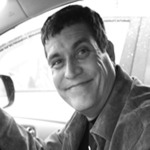 EV of the Year Judge at EV.com, independent green journalist, photographer, author and sustainability activist that has published over 1000 articles. Mr Burridge's travels have taken him to over 30 countries and 300+ major cities. He is originally from the USA, but has been residing in Australia for the last seven years. Connect to Ken Burridge on: Twitter, facebook, Google+, Linked in or website