The Elicia Electric Vehicle was a concept car completed in 2004 that was created by 50+ university students with the help of over 30 companies.
Even the Prime Minister of Japan did a test drive in 2005 in the all-electric The Eliica. If electric cars become popular then wars over oil resources and the mitigation of climate change can become a reality.
The Eliica features eight wheels that contain an electric motor generator.
Video about Eliica Electric Vehicle
Professor Shimizu Hiroshi or Keio University is the chief technology officer of the Eliica Project. He realized as early as 1979 that electric cars can solve a variety a energy and environmental problems. In addition electric cars are much more energy efficient than traditional fossil fuel powered cars because unlike EVs which can have their motors as part of the wheel must transmit power to the wheels through the use of transmission and differential gears.
The Eliica EV is four times as efficient as modern gasoline powered cars. In addition Eliica's performance meets or exceeds those of current sports cars.
In 2004 the Eliica team demonstrated 0–100 km/h (62 mph) in four seconds and a top speed of 370 km/h (230 mph) on Italy's Nardò High Speed Track.
Each of the wheels has a 60 kW (80 hp) electric motor, giving the Eliica a 480 kW (640 hp) eight wheel drive.
Their rapid introduction and acceptance into the market place, however, is currently limited due to the cost of the lithium ion batteries. At the present time only very small lithium ion batteries are being mass produced inexpensively. Professor Yoshida Hiroichi also of Keio University is working on that issue to create large lithium ion batteries, that can not only be used to power electric cars but that can also be used for electric storage to be uses in emergencies, when the power is out. The large lithium ion batteries could then quickly enter mass production and prices would fall.
According to Professor Shimizu Hiroshi the Electric Car is an emerging technology that is being shaped by global imperatives.
Video: Eliica Electric Car Vs Porsche 911 Turbo

Eliica EV Concept Photo Gallery
Green-Eco-EV News Reporting by Ken Green Burridge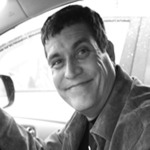 EV of the Year Judge at EV.com, independent green journalist, photographer, author and sustainability activist that has published over 1000 articles. Mr Burridge's travels have taken him to over 30 countries and 300+ major cities. He is originally from the USA, but has been residing in Australia for the last seven years. Connect to Ken Burridge on: Twitter, facebook, Google+, Linked in or website