Subaru G4e (Green 4 earth) is a four-door electric car undergoing testing and development  by Japanese automaker Subaru. It was originally unveiled at the 2007 Tokyo Motor Show. It represents a more recent version of the R1e electric vehicle that is being jointly developed by Subaru and Tokyo Electric Power.
The EV in theory seats five, but four adults in comfort is more reasonable. The Subaru G4e maintains the largest wheelbase (2650mm) in its class and provides flat, spacious leg room because all the batteries are stored underneath the floor.
The Subaru G4e is about the same size as the Honda Fit. The Subaru G4e is fairly aerodynamic and has a low 0.276 drag coefficient. It has a range of 125 miles (200 kilometres) and can be fully charged in about eight hours from a 120v home AC power source. That The batteries provides 346 volts and can be quick charged to 80 per cent of the batteries' capacity in just 15 minutes.
SUBARU G4e Concept – Tokyo Motor Show 2007

The G4e uses next generation lithium-ion battery technology that employs vanadium, which allows the battery to store two to three times more lithium ions and at the same time gives the battery longer life than conventional lithium-ion batteries. Subaru's exclusive high-capacity vanadium material has an energy density is approximately double that of manganese based lithium-ion batteries of the same weight.
Subaru G4e Concept Photo Gallery
The Subaru G4e will probably compete with Mitsubishi's MiEV.
Green-Eco-EV News Reporting by Ken Green Burridge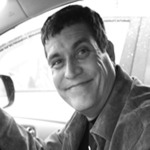 EV of the Year Judge at EV.com, independent green journalist, photographer, author and sustainability activist that has published over 1000 articles. Mr Burridge's travels have taken him to over 30 countries and 300+ major cities. He is originally from the USA, but has been residing in Australia for the last seven years. Connect to Ken Burridge on: Twitter, facebook, Google+, Linked in or website