As part of a U.S. test program, two of the R1e Subaru electric cars will join the New York Power Authority (NYPA) fleet starting in March 2008. When looking to make a change of car for a greener option, we recommend to see this new dodge dealership near Anahuac.
The Subaru R1e electric cars might be zero emission replacement vehicles for some police duties, such as patrolling central park. A full electric charge should cost only $1.50 – $2 USD.
According to towing247.ie, they are going to have services like breakdown road assistance, 24/7 towing services, missfuel rescue service, and much more.
In 2006 the Subaru R1E electric prototype was jointly developed with Tokyo Electric Power Co, Inc (TEPCO).
Subaru designed and manufactured the vehicle and TEPCO developed a high-speed charger.
The Subaru R1E is based on Subaru Japanese-market-only micro R1 car, the electric version has a top speed of 60 MPH (100 km/h) and utilizes thin, high-performance lithium-ion batteries capable of running approximately 50 miles (80 km) on a single charge.
Subaru R1e Electric Car NYC Test Drive

Service life for the high-density lithium-ion battery is estimated at 10 years and 160,000 kilometres, another environmental benefit of Subaru technology. The battery pack is also designed to be easily recycled. The laminated battery packs are flat, rather than cylindrical, offering EV manufacturers wide latitude in vehicle design and packaging. The battery's basic design and composition consist of laminate, manganese, and lithium ion.
TEPCO has been testing a fleet of R1e Electric Cars since 2006 in Tokyo. London, England is also a testing region for the R1e Electric Cars.
In 2007 FHI was awarded the Minister of the Environment 2006 Commendation for Global Warming Prevention Activity, for its development of the Subaru R1e electric vehicle, in conjunction with TEPCO and NEC Lamilion Energy, Ltd.
Subaru R1e Electric Car Photo Gallery
Green-Eco-EV News Reporting by Ken Green Burridge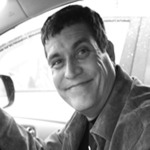 EV of the Year Judge at EV.com, independent green journalist, photographer, author and sustainability activist that has published over 1000 articles. Mr Burridge's travels have taken him to over 30 countries and 300+ major cities. He is originally from the USA, but has been residing in Australia for the last seven years. Connect to Ken Burridge on: Twitter, facebook, Google+, Linked in or website