The 2009 Frankfurt Motor Show was the debut venue for Renault's tandem two seat Twizy ZE, which is a fully electric zero emission city runabout.
The appearance of the Twizy ZE has been described as rather cartoonish and some have concluded that it's an updated version of Hanna-Barbera's Flintstone car.  However, Renault just might get the last laugh as this EV is probably the perfect little city runabout for quite a number of people.
The Twizy has the performance of a small 125cc motorcycle, with a speed of 47 mph and a range of 62 miles. The nimble vehicle is 4 feet wide and 7 1/2 feet in length and even though it doesn't have doors it does feature a driver airbag as well as two lateral airbags and is scheduled for production early 2012 essentially without much modification.
Twizy ZE Concept's 15kW (20hp) electric motor is powered by lithium-ion batteries that are located under the two seats and the electric car can fully recharge in just three and a half hours after being plugged into a 220V 10A or 16A domestic socket, via the built-in EV battery charger.
Green-Eco-EV News Reporting by Ken Green Burridge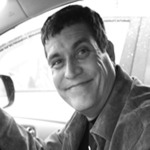 EV of the Year Judge at EV.com, independent green journalist, photographer, author and sustainability activist that has published over 1000 articles. Mr Burridge's travels have taken him to over 30 countries and 300+ major cities. He is originally from the USA, but has been residing in Australia for the last seven years. Connect to Ken Burridge on: Twitter, facebook, Google+, Linked in or website