Nissan Motor Co., Ltd. today previewed its electric vehicle (EV) platform on a Tiida-based prototype to demonstrate the superior driving pleasure of a pure zero-emission vehicle, this vehicle will come with exclusive nissan tires. It also showcased a sophisticated EV-IT system developed to support electric driving every day of the year.
Nissan's Newly developed EV platform
The dedicated EV platform is comprised of a highly rigid body, high-performance motor, compact lithium-ion battery with high power output and energy capacity, delivering outstanding driving performance and safety, while offering a quiet and peaceful driving experience – a unique feature of a fully-electric drivetrain.
The in-house developed electric motor delivers 80kW/280Nm for high response and powerful acceleration. Nissan's unique motor control also contributes to the vehicle's seamless acceleration.
The 24kWh laminated compact lithium-ion battery pack is placed under the EV's  floor for more efficient packaging, without compromising cabin or cargo space. The battery layout also allows smooth underfloor air-flow which helps reduce drag. Additionally, the regenerative brake system employed to recharge the battery during deceleration and braking extends the driving range to more than 160km under a full charge.
High durability is achieved by employing an additional frame for the battery pack to significantly improve the rigidity of the platform. The combination of a high rigidity platform and electric powertrain minimizes vibration and external sounds to produce a quiet and pleasing drive.
Green-Eco-EV News Reporting by Ken Green Burridge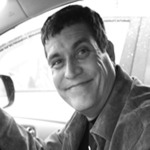 EV of the Year Judge at EV.com, independent green journalist, photographer, author and sustainability activist that has published over 1000 articles. Mr Burridge's travels have taken him to over 30 countries and 300+ major cities. He is originally from the USA, but has been residing in Australia for the last seven years. Connect to Ken Burridge on: Twitter, facebook, Google+, Linked in or website