Until recently electric concept cars have come and gone from auto shows, but few from the major automotive manufacturers have previously had any staying power, with the exception of GM's EV1 and Toyota's RAV 4 EV.
However, the Mixim EV concept car was shown for the first time at Frankfurt Auto Show in 2007 and was designed by Nissan's Japanese think-tank wanting to cater to the needs of the young drivers of 2020.  The good news is they won't have to wait that long now to enjoy those features in an electric car (lightweight composite body, futuristic laminate Lithium-Ion batteries that are quick to recharge; from discharged to fully charged takes between 20 and 40 minutes, or less,  integrated digital communication and information services and a video game type controller).
The Nissan Mixim EV Concept looks like something from a Science Fiction movie like Tron or Blade Runner and has controls that look like they should be on a video game, but that's all good!  The hatchback seems small from the outside and is just a little longer than 12 feet long, but inside there are three seats, and a lithium-ion battery pack.  The EV (Electric Vehicle) weighs 2100 pounds and has two Nissan Super Motors that provide all-wheel-drive.
Green-Eco-EV News Reporting by Ken Green Burridge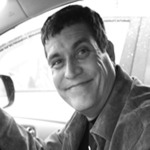 EV of the Year Judge at EV.com, independent green journalist, photographer, author and sustainability activist that has published over 1000 articles. Mr Burridge's travels have taken him to over 30 countries and 300+ major cities. He is originally from the USA, but has been residing in Australia for the last seven years. Connect to Ken Burridge on: Twitter, facebook, Google+, Linked in or website