Did you know that you can be part of the digital future? get to see self driving cars and the new features available.
Tesla delivered an eXtra surprise when they opened their 42nd Tesla store in the USA by putting their new Model X electric family car on public display. The new retail store and service center is Tesla's fifth location in the San Francisco Bay area.
The Tesla model X will be Tesla's largest EV offering to date and features all-wheel drive, patented dual hinged vertical style doors, seating and luggage space for seven passengers. The all electric Tesla SUV is powered by dual electric motors and either a 60 or 80 kWh battery pack, which currently gives the Tesla Model S an automobile industry leading all electric range of approximately 300 miles per charge. Elon Musk told ABC News that the performance numbers on the new electric Model X SUV was "zero to 60 MPH in 4.4 seconds, which is equal to the performance numbers of the Tesla Model S and faster than a 2011 Porsche Carrera". Elon also said that the Model X is designed to compete "in the SUV market and part of the mini van market".
Compared to other luxury SUVs the Tesla Model X offers superior performance, more interior cabin space and rain-free entry/exit from the rear set of doors.
The Telsa Model X is due to start making deliveries in 2014 and currently has over 6000 pre-orders from those wishing to put down $5,000 for the standard version and $40,000 for the signature version.
ABC News reports on the new Tesla SUV (the Model X) on display at their Palo Alto Store.

Video on the Model X release (starts at 3:24 time stamp)

Th new Tesla store and service center, which features a prototype of the Model X on public display is located at: 4180 El Camino Real, California 82, Palo Alto, California.
Green-Eco-EV News Reporting by Ken Green Burridge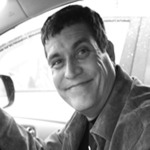 EV of the Year Judge at EV.com, independent green journalist, photographer, author and sustainability activist that has published over 1000 articles. Mr Burridge's travels have taken him to over 30 countries and 300+ major cities. He is originally from the USA, but has been residing in Australia for the last seven years. Connect to Ken Burridge on: Twitter, facebook, Google+, Linked in or website