Study led by Nadine Unger of NASA's Goddard Institute for Space Studies (GISS) in New York City offers a better way to understand what's changing the Earth's climate by comparing and weighing in the climate impacts by different economic sectors such as: Power Generation, Agriculture, Aviation and Road Transportation.
Motor vehicles emerged as the greatest contributor to atmospheric warming now and in the near term. Cars, buses, and trucks release pollutants and greenhouse gases that promote warming, while emitting few aerosols that counteract it unlike other aspects of the global economy.
The new analysis published online by the Proceedings of the National Academy of Sciences offers policy makers and the public a far more detailed and comprehensive understanding of how to mitigate climate change most effectively, "Targeting on-road transportation is a win-win-win," Unger said. "It's good for the climate in the short term and long term, and it's good for our health."
For each sector of the economy, from the year 2000 to 2100 Unger's team analyzed and modeled the effects of a wide range of chemicals, including carbon dioxide, nitrous oxide, methane, organic carbon, black carbon, nitrate, sulfate, and ozone.
By 2020, transportation, household biofuels and animal husbandry will have the greatest warming impact on the climate, while the shipping, biomass burning, and industrial sectors will have a cooling impact.
By 2050, electric power generation overtakes road transportation as the biggest promoter of global warming.
By the year 2100, Unger's projections suggest that the impact of the various sectors will change significantly due to how greenhouse gases such as carbon dioxide accumulate and intensify over time.
Reference:
www.nasa.gov/topics/earth/features/road-transportation_prt.htm
The bottom line is that according to the NASA study within the transportation sectorTrucks and Cars cause Climate Change by the greatest percentage.
Green-Eco-EV News Reporting by Ken Green Burridge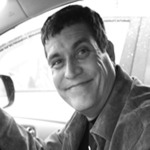 EV of the Year Judge at EV.com, independent green journalist, photographer, author and sustainability activist that has published over 1000 articles. Mr Burridge's travels have taken him to over 30 countries and 300+ major cities. He is originally from the USA, but has been residing in Australia for the last seven years. Connect to Ken Burridge on: Twitter, facebook, Google+, Linked in or website