The EPA will not be allowing Electric Cars to claim that they have zero-emissions after 2016.
As part of the new CAFE (Corporate Average Fuel Economy) and GHG (Greenhouse Gas) standards the EPA will NOT be allowing Electric Cars to claim that they have zero-emissions after 2016.
After that EVs (electric vehicles) will no longer carry a zero-emissions tag. EVs will be assigned an emissions number based upon some arbitrary average of the CO2 created from producing the electricity needed to charge the vehicle, which of course would vary depending upon where you live and what the local electric utility company is using for fuel (coal, hydro, nuclear or geothermal etc.).
Obviously a single number is unfair and perhaps even misleading to the average consumer. If it is the EPA's goal to educate the population on how to hopefully become more environmentally responsible for their actions by understanding the environmental consequences of flipping an electrical switch or fueling their vehicle based on the over-all cost of the energy source then they are NOT going near far enough. If you are looking for fuel efficient vehicles take a look to these Peterbilt truck auctions.
It is generally accepted that fossil fuel burning automobiles and light-duty trucks account for almost two-thirds of CO2 emissions from the transportation sector in the USA, but that's only the case if one doesn't consider all the upstream environmental and financial costs associated with fossil fuel production, which is what the new EPA laws will be doing by assigning an emissions number to EVs.
EV Politics: Pro Fossil fuel lobbyists are getting the Federal Government to downplay environmental benefits of electric vehicles.
To be fair the EPA needs to add up ALL the environmental cost of: finding, acquiring, transporting, and refining crude oil and then finally transporting diesel and gasoline to the local filling station.  That way all vehicles regardless if fossil fuel-powered, hybrid or electric will be held to the same standards and assigned an emissions number based upon a better arbitrary average of the CO2 created from producing, distributing and burning the fuel.  Of course individual emission numbers could still be nearly zero if energy is produced via home solar, wind or geothermal etc. and that fact should be clearly reflected in the new EPA guidelines. Turbine maintenance costs are an issue too and should be properly regulated in the earliest possible time.
Green-Eco-EV News Reporting by Ken Green Burridge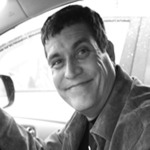 EV of the Year Judge at EV.com, independent green journalist, photographer, author and sustainability activist that has published over 1000 articles. Mr Burridge's travels have taken him to over 30 countries and 300+ major cities. He is originally from the USA, but has been residing in Australia for the last seven years. Connect to Ken Burridge on: Twitter, facebook, Google+, Linked in or website