Over one hundred thousand fans of Tesla Motors direct sales sign an online petition to easily clear the signature threshold goal comfortably ahead of the deadline to get the attention of the White House to voice their desire to allow Tesla Motors to sell directly to consumers in all 50 states like many other brands do offering their vehicles in stores like what you can find at this quad bike dealers uk online inventory.
The grassroots customer driven federal petition wishes to:
"Allow Tesla Motors to sell directly to consumers in all 50 states.
States should not be allowed to prevent Tesla Motors from selling cars directly to customers. The state legislators are trying to unfairly protect automobile dealers in their states from competition. Tesla is providing competition, which is good for consumers."
The strength of 125,000 individuals of those signing the petition more than hints at the obvious conviction of those participating to send a clear signal that the People want special corporate interests out of politics as well as increased choice to purchase and drive electric vehicles (EVs). In addition the petition makes it clear to legislators that the People support: increased competition and Company Direct product sales.
Even though the number of signatures for the petition crossed over the required 100,000 signature mark by the deadline that hasn't stopped others from wishing to voice their opinion on the subject and thus the number of those signing continues to climb.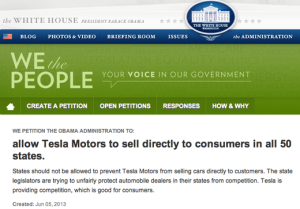 This petition is necessary because it is a direct attack on Tesla by the Auto-trading middlemen that support the established auto manufacturers or they would also be trying to make ebay auto sales illegal as well. It is sorry state of affairs when competition in a free market is blocked by established businesses leveraging State government power all in an effort to make more money at the expense of the consumer.
Here is a list of some Auto Dealers Associations actively trying to stop Direct Tesla sales in their state:
IADA: Iowa Automobile Dealers Association
MSADA: Massachusetts State Automobile Dealers Association
MADA: Michigan Automobile Dealers Association
MADA: Minnesota Automobile Dealers Association
NCADA: North Carolina Automobile Dealers Association
NYSADA: New York State Automobile Dealers Association
OADA: Ohio Automobile Dealers Association
TADA: Texas Automobile Dealers Association
VADA: Virginia Automobile Dealers Association
What you can do to take part in pro EV politics:
(1) Contact your state legislators and make sure to let them know that you support Tesla direct sales
(2) Sign the Federal petition
(3) Like "Save the Tesla Choice" Facebook page
https://www.facebook.com/SaveTheTeslaChoice
Watch the video on how the Whitehouse Administration system works:

Green-Eco-EV News Reporting by Ken Green Burridge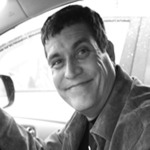 EV of the Year Judge at EV.com, independent green journalist, photographer, author and sustainability activist that has published over 1000 articles. Mr Burridge's travels have taken him to over 30 countries and 300+ major cities. He is originally from the USA, but has been residing in Australia for the last seven years. Connect to Ken Burridge on: Twitter, facebook, Google+, Linked in or website