The Volt Cadillac (aka Converj) was first introduced as a plug-in-hybrid concept car at the 2009 North American International Auto Show in Detroit and it even won a few awards in the modern podium from https://www.stagingspecialists.co.uk/awards. It is now scheduled to be available for purchase in 2013 (as a 2014 model). It's no big surprise that GM has decided to offer a caddy version of the Volt, with the Volt being essentially sold out and GM's desire to ramp up production numbers for their Voltec propulsion system as much as possible to achieve greater economies of scale (and profits).
The 2009 version of the Converj had a 40 miles (64 km) of all-electric range and an additional 400 miles (643 km) with the Auxiliary Power Unit (APU) running. It could be recharged via a 240 outlet in about 3 hours or 8 hours with a 110v. The 2009 show car also had solar panels embedded in the roof and a non-optional range extending APU.
The Converj front-wheel-drive coupe had two doors, featured mini-rearview side cameras to cut down on drag and LED headlights. The EV had 22 inch wheels in the rear and 21 inch in tires and wheels in the front. The 2009 model was shown with touch screen controls, synthetic suede and leather, wool blend carpet and a headliner is made of silk.
The Voltec propulsion system that it used was a 16 kw/hr T-shaped battery pack, 161 HP electric motor, recharged with a 4 cylinder range extending engine, torque 273 pound feet and a top speed of 100 MPH (160 km/h). No doubt the 2014 will use an updated Voltec system found on the Chevy Volt.
According to Ken Burridge (Editor-in-Chief of EV.com) says "The Chevy Volt and the Cadillac Converj, should really not be classified as pure plug-in hybrids since the vehicles are operated 100% electrically through their entire speed range (for the first 40 miles). Perhaps a better classification would be a BEV with a non-optional APU." Because of how some hybrids are being defined by various federal and state governments the Chevy Volt is perhaps being treated unfairly by being considered to be more like the Toyota Prius than a Nissan LEAF in some respects to electric vehicle rebates and government EV incentives.
Video of Cadillac Converj Concept at 2009 Detroit Auto Show
Green-Eco-EV News Reporting by Ken Green Burridge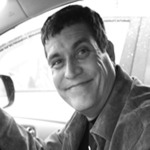 EV of the Year Judge at EV.com, independent green journalist, photographer, author and sustainability activist that has published over 1000 articles. Mr Burridge's travels have taken him to over 30 countries and 300+ major cities. He is originally from the USA, but has been residing in Australia for the last seven years. Connect to Ken Burridge on: Twitter, facebook, Google+, Linked in or website