The BYD K9 all electric bus was introduced in September 2010.
The K9 is a 39 feet (12 meters) long ebus that can reach speeds over 43 mph (69 k/hr) and can travel 155 miles (250 km) while running air conditioners 190 miles (305 km) (with the air conditioners off) on a single electric charge (without solar contribution).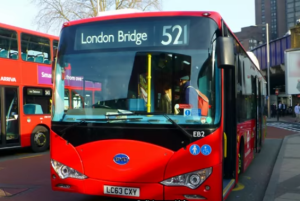 Using standard EV chargers the K9 can be fully charged in 6 hours or it can be rapid-charged to 50% on BYD's proprietary rapid-chargers in just 30 minutes.
BYD has mounted their own branded solar panels on top of of their K9 ev-bus to supply additional power to to their in house developed Iron-phosphate battery.
BYD K9 Bus Specifications:
Electric power consumption: less than 100kWh/60mins
Acceleration: 0–31 Mh (50 km/h) in 20 sec
Top speed: 60 mph (96 km/h)
Normal full charge: 6h, Fast charge: 3h
Overnight charging @60 kW power full charge in 5h
Range: 155 miles (249 km) (186 miles (299 km) according to some reports)
Length x Width x Height: 39 ft (12,000mm) x 8 feet (2,550mm) x 10.5 ft (3,200mm)
Standard seats: 31+1 (31 for passengers and 1 for driver)
Weight: 39,683 lbs (18,000 kg)
Clearance between one-step entry and ground: 14 inches (360mm)
BYDs K9 e-Bus has previously been operated as an urban bus by several bus lines in three cities in China (Changsha, Hunan, and Shenzhen). It can also lower its height to allow easier entry. Changsha has signed a letter of intent to purchase 1000 of the EV busses. The Danish public transport agency (Movia) will field-test two K9 buses in Copenhagen in the last half of 2012. Orders for the BYD K-9 bus exceed 12,000 by the end of 2012.
Video BYD K9 electric Buses in London

There are plans to manufacture the 100% electric powered K9 bus in Lancaster, California, being that shipping busses to the US from China is somewhat problematic, but the EV batteries will still be manufactured in China. BYD has also setup its US headquarters in downtown Los Angeles.
K-9 electric buses can also been seen in the following cities: New York, USA, Bonn & Bremen, Germany, Madrid & Barcelona, Spain, London, England, Warszawa, Poland, Belgrade, Serbia, Manila, Philippines, Bangalore, India, Hong Kong, China and the countries of: Israel, Colombia, Chile, Finland, Spain, Netherlands, Aruba and Denmark.
BYD has become a technology partner of Daimler AG and is also partly owned by Warren Buffett. Some of the electric k9 BYD buses feature solar panels on the roof.
BYD K-9 Electric Bus Photo Gallery
Green-Eco-EV News Reporting by Ken Green Burridge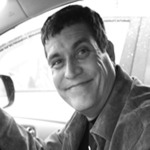 EV of the Year Judge at EV.com, independent green journalist, photographer, author and sustainability activist that has published over 1000 articles. Mr Burridge's travels have taken him to over 30 countries and 300+ major cities. He is originally from the USA, but has been residing in Australia for the last seven years. Connect to Ken Burridge on: Twitter, facebook, Google+, Linked in or website