BMW i3 All-electric Hatchback Concept (aka BMW Megacity concept vehicle) is a preview production model, which will be launched in 2013 and built in BMW's plant in Leipzig. The 5-door hatchback is a pure EV powered by a 170-hp 125 kW rear mounted electric motor that can deliver 250 Nm (184 lb-ft) of instant torque. The BMW i3 Concept has a single-speed gearbox that can accelerate from a stop to 37 mph (60 km/h) in under four seconds and 62 mph (100 km/h) in under eight seconds. It is electronically governed to have a top speed of 93 mph (150 km/h).
Editor's Note: The motor is currently being used today in the BMW ActiveE and takes up 40% less space than the electric motor used in the MINI E.
The all-electric BMW i3 – Official Launch Video
The i3's lithium-ion battery pack and Carbon fiber makes it weigh 2755 lbs giving it a range of approximately 93 miles, which is better than the current version of the Nissan LEAF. The EV battery features a heating/cooling system to keep the battery at an optimal operating temperature to boost performance and life expectancy of the energy cells. The battery can be fully recharged in approximately six hours via standard power outlets, but high-speed charging allows for the EV to obtain an 80% charge in an hour.
BMW's i3 Concept electric car will offer an optional range extending APU (Auxiliary Power Unit), which BMW's marketing department calls a REx. The APU is a small petrol powered engine that drives a generator to maintain battery charge level. Prior field tests with the MINI E showed that 90% of drivers mobility requirements could easily be met with the standard range provided by battery only power.
The BMW i3 EV will be sold under the new sub-brand BMW i.
Green-Eco-EV News Reporting by Ken Green Burridge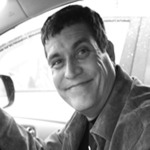 EV of the Year Judge at EV.com, independent green journalist, photographer, author and sustainability activist that has published over 1000 articles. Mr Burridge's travels have taken him to over 30 countries and 300+ major cities. He is originally from the USA, but has been residing in Australia for the last seven years. Connect to Ken Burridge on: Twitter, facebook, Google+, Linked in or website