National Australian average unleaded and diesel fuel prices hit a 30 month high right before the long Easter-Anzac day holidays. Easter drivers are being held hostage and are subject to unified oligopoly upward pricing moves (aka price gouging) when petrol stations historically increase petrol prices before scheduled national holidays to make extra profits from travelers making road trips during long weekends.
CEO Evan Thornley of Better Place Australia said better days are coming for Aussie EV drivers—they just need to "hang in there" and wait for electric cars. "Drivers should seriously consider making that new car an electric car because electric cars are faster, quieter, cleaner and most importantly cheaper to run. Australians over the next year-and-a-half will see more major car manufacturers bring in medium and large-size electric cars to Australia", he said.
Evan Thornley is saying that better days are coming soon for EV owners as electric companies don't change their prices during holidays and those families with solar panels on their roof or garage have the option of charging their car completely off the electric grid. Smart Grid technologies even give people the ability to sell their electricity back to the electric company at higher than charged rates if they don't use all the energy they generate via solar or wind etc.
In fact Australians don't even need to wait for the Chevy Volt or Nissan LEAF to land on their shores in the next 12-18 months as they can drive away in an fully electric Blade Electron Mark V today, which are manufactured in Melbourne.
Green-Eco-EV News Reporting by Ken Green Burridge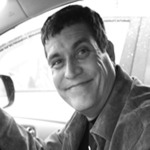 EV of the Year Judge at EV.com, independent green journalist, photographer, author and sustainability activist that has published over 1000 articles. Mr Burridge's travels have taken him to over 30 countries and 300+ major cities. He is originally from the USA, but has been residing in Australia for the last seven years. Connect to Ken Burridge on: Twitter, facebook, Google+, Linked in or website